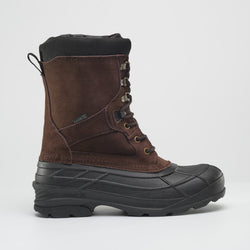 Why you'll love it
If you're searching for rugged winter boots for men, go for Kamik's Nation Plus. Whether you're out shoveling the night after a snowstorm or taking the kids tobogganing, these warm winter boots will keep your feet comfortable and dry. Featuring seam-sealed waterproof construction, and HEAT-MX™ insulation for extra warmth.
Waterproof Seam-Sealed
Genuine Eco-Friendly Leather
Comfort Rated: -40°C
UPPER
Seam-sealed waterproof genuine suede upper
Leather is from a tannery rated gold for its water, energy, and waste management practices
Waterproof gusset tongue
Removable HEAT-MX™ 145 sustainable thermal insulation liner
Moisture wicking lining
OUTSOLE
Waterproof and flexible synthetic rubber shell
SNOWTREAD outsole with deep, self-cleaning treads for stability in snowy conditions
The Details
Specs
Circumference:
31 cm (size 42)
Leather
Genuine leather and suede: This material greatly enhances protection against natural elements and terrain. Kamik's leathers are from tanneries rated Gold for their water, energy, and waste management practices.
Leather Working Group
Leather Working Group: Kamik Canada Inc. has joined the Leather Working Group (LWG) to support and contribute to environmental best practice within the leather industry.
LITE Leather
ISA TanTec's LITE™ (Low Impact To the Environment) facility is designed to control water and energy consumption, limiting chemical application during the production process to make eco-friendly leathers.
Seam Sealed Waterproof
All of the materials and seams (visible and invisible) are specially treated with waterproof tapes and sealants to block moisture and keep feet totally dry.
Waterproof
Built to keep you dry in any weather.
Waterproof Bottom
The waterproof bottom provide a great barrier between feet and snow or water, enabling you to stay dry no matter the weather.
Size chart
Test
US Size
Foot Length (inches)